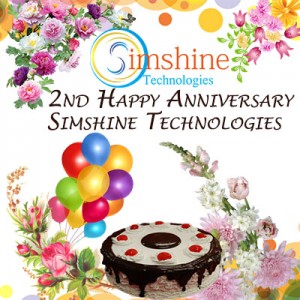 It was back in 2014 when Simshine Technologies was started; and in a matter of no time we are here for our 2nd anniversary. We at Simshine are not a company, but a family that work together and grow together. Simshine is all about developing the world for good and giving in its own positive vibe for overall progress.
Over the past year since the 1st anniversary of Simshine, we have worked on various projects for our clients and they have all come out to be a success. Our websites are live and running without any hiccups while our clients are happy with the work that we have done. We even had a couple of wonderful opportunities to attend live conferences and seminars on web development which has allowed us to grow and expand our knowledge base along with update us to the latest in the world of web development.
Now in the third year of running for Simshine Technologies, our goals are pretty much set and steady. We have been able to achieve our previous goals and we are sure we will be able to achieve the current ones as well. But our main aim would be not only to achieve those goals but even surpass those if possible. A person who can reach his goals and then some is truly successful in life and that is exactly what we are planning to achieve here.
We thank you all for your continuous support to Simshine Technologies and hope that you will always stand by us while we promise to keep you serving as long as time permits.