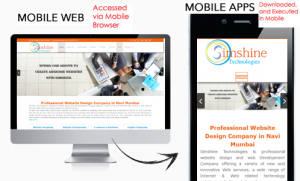 The difference between a mobile website and mobile app can be showcased with the help of    these two designations of guest and house member. Any user can access your website on his  or  her mobile. After the end of the surfing session, you will get disconnected with that user  until  next time he will visit your site once again.
An app is more or less like an application, which becomes a permanent part of the function  of  the mobile. The app creates its buttons and shortcuts and updates itself on regular basis  with  the consent of the customer. In general, there are two apps, first apps are the apps that  come  with the package of the mobile phone. the second type of apps are the standalone apps,  users  can download these apps and start using them.
A mobile app, on the other hand, is a commitment, where every time a user will connect his  internet connection, it will give you an opportunity to you where you can request him to  update the content.
In the terms of user experience, we can simply say that App is a much more personalized experience for any client. If a person is downloading, an app then it also creates a kind of brand loyalty for the brand or the service provider.