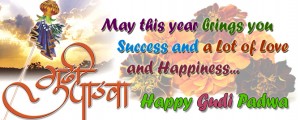 And after celebrating the Festival of Colors (Holi), we are here to celebrate another Festival – Gudi Padwa. The word comes from Marathi language which literally means the hoisting of victory flag in the name of Lord Brahma on the first day of synodic month. It is a festival celebrated as a New Year in some states of India. This festival also known as Chaitra Shukla Pratipada is a 1st day of the month of Chaitra of Hindu calendar. It is a significant festival of Hindus and Brahma Dev is worshiped who created this universe on this day.
Worshipped On this day, you will find many windows of houses adorned with a stick that hold bronze metal pot on it with yellow cloth, flowers with leaves and much more. It is also raised at the entrance of house. Some also enjoy the competition of hanging the most attractive Gudi. It is a sign of good wishes, victory and joy. Houses are kept clean, doorsteps are decorated with Colorful Rangoli, and women dress with Green saree and ornaments. In Karnataka and Andhra Pradesh, this festival is celebrated as Yugadi or Ugadi where they worship god, decorate their houses with mango leaves/Rangoli and wear new clothes.
We at Simshine Technologies are happy to celebrate this festival and may god shower on you with happiness and wealth. Happy Gudi Padwa!