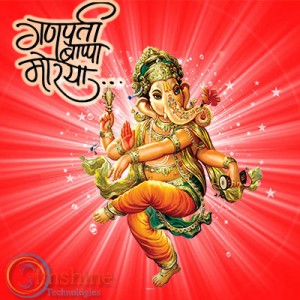 City of Mumbai and rest of the Maharashtra celebrates a never-ending religious party with the festival of Ganpati. We are calling it never ending because it ends on the note where devotees appeal Ganpati to come back soon during the course of next year. Ganpati brings happiness in our life; Ganpati brings festivity in our life. Nine days full of dance music and frolic waits for us every year.
Ganesh Chaturthi (4th day) to Anant Chaturdashi (14th day) it is gaiety of divine blessing all over
It is believed that Lord Ganesh ends all the sorrows and blesses us with happiness and gaiety. Most of the community Ganesh Utsav celebrations last for ten days and during these ten days every evening people assembles next to Ganpati statues located in well decorated Ganpati Pandal's and participates in cultural programs. The ceremony starts with Ganpati Aarti and then a series of cultural programs takes place.
Various social organizations in Mumbai and Maharashtra also conduct a Ganpati Pandal contests. Here a panel of esteemed judges visits Ganpati Pandals and judge them based on various themes. In the year 2016, India has already taken some giant steps to make its strong presence felt in the digital map of the world and here at www.simshine.com we are saluting this expedition in our Ganpati Theme.
A Time to welcome next big business season
Ganpati celebrations are the time when we rejoice nine days to the fullest and energize ourselves for the next big season of business, which is coming our way. On this energetic note on the behalf of Simshine family, we bid happiness to all for this Ganesh Utsav, may Bappa fulfill all your wishes.
Happy Ganesh Chaturthi to all from Simshine Technologies.