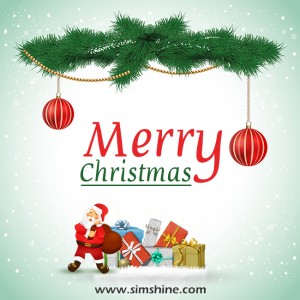 Christmas is Christ's mass, or in other words we can say it is the day when we celebrate the birthday of Jesus Christ. There is a kind of religious significance attached to it. Apart from this religious significance there are certain aspects of this festival which we need to understand completely.
If we see it from the perspective of various corporate then this is the closing time of the year. They settle down all their accounts of the year during this period. The same thing is applicable on many small businesses which are dependent on the cycle of these big corporate.
You can also capitalize on this. If you are someone who is in to e-commerce practices then this is the right time to make some amendments and step in to the next stage of the transactions. "Simshine technologies" can help you out in this smooth transition of the events. All you need is to contact us and we will guide you and take necessary steps for regarding this.
There is another side attached to the Christmas. This is the time when a worry free family comes together and spends some quality time together. This is the time when various generations of family sits on a dinner table and shares the notes of life with each other.
It is better to come out of your virtual world and confine yourself in a world which is full of old world charms. It is all about confining yourself in the cozy corners of your house and lad yourself with some warm feelings of being together. This is the right time to strengthen your bonds with your immediate family and then move ahead to welcome another fresh colander year of your life.
Use all the digital devices and capture these moments for yourself. If you want to decorate them on the digital walls of life then Simshine Technologies is always there for you. .
Wishing you a merry and warm Christmas from Simshine Technologies.