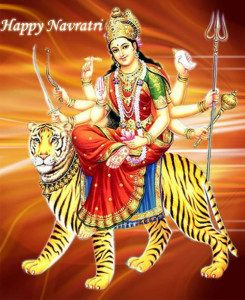 "Shaardiya navratra" is a nine day festival which embarks the change of season in India. These are the nine days which are marked for the rejuvenation of an individual in various forms.
Some people observe nine days fast during this period to rejuvenate their organs and senses, while others rejuvenate themselves by participating in Garba nights which is a Gujrati dance to celebrate the arrival of the new season.
These nine days teaches us to take a break from killing pace of life and take a well-deserved break from the routine. During these days people in India worship goddess Durga in her various forms.
Each day is dedicated to a different form and embodies certain Positive virtues. During this period some devotees read Durga Saptshati. This is a holy text about Maa Durga's victory over the demons. Spiritually speaking this is the time of year when Goddess Durga teaches us the path of rigorous penance and teaches us the art of reinventing ourselves.
These nine days of worship reminds us the power of supreme and connect us with the source of creation.
These nine days are the embodiment of SHAKTI the power within us. Simshine Technologies wish you Happy Navratri and invite you on this path, where you can regain and realize the power in yourself and connect it with supreme power through penance.
Happy Navratri!!!