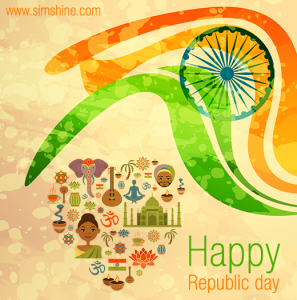 26 January on this day that our own constitution came into force and our country became a secular and democratic republic.
A big celebration arrangement at New Delhi and State capitals takes place all over the India. On this day, ceremonious parades take place at the Rajpath, which are performed as a tribute to India. At this day, the whole environment becomes full of the sound of National Anthem "Jana Gana Mana".
जन-गण-मन अधिनायक जय हे,
भारत-भाग्य-विधाता ।
पंजाब सिन्धु गुजरात मराठा,
द्रावि़ड़ उत्कल बंग ।
विन्ध्य हिमाचल यमुना गंगा,
उच्छल जलधि तरंग ।
तव शुभ नामे जागे,
तव शुभ आशिष मांगे,
गाहे तव जय गाथा ।
जन-गण मंगलदायक जय हे,
भारत-भाग्य-विधाता ।
जय हे ! जय हे !! जय हे !!!
जय ! जय ! जय ! जय हे !!
Happy Republic Day to all from Simshine Technologies!!!