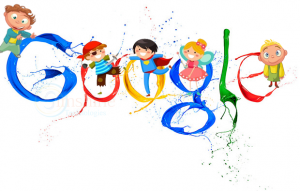 Computer and Internet has invaded the world of kids a great deal. Now they are using it more frequently. They are the future generation which will be dependent on internet entirely. Even today they are using Google for their school assignments and of course for gaming purposes.
Google is planning a separate search engine directed at infant kids. This search engine will classify only children related stuff in its searches. They are working hard to make it functional within a year. It can easily get the nomenclature of "doodle" when they will launch it.
Currently it is a tiresome job for a kid to get the information which belongs to him. Every time he needs to walk that extra mile. Even guardians are worried because during this journey of extra mile their kids may come across some unwanted stuff which is present there.
There is some nanny software present to block this unwholesome material but at the end of the day it is an obstruction that can create this barrier. Google's kid version is aimed at the removal of these barriers and ensures maximum results with less vulnerable parts. This is an attempt that should be appreciated full heartedly because it will pave a way for the better future of the kids in the world of Google uncle.
People at Google are optimistic about a bright future of this new makeover and they are confident that it will attract a great deal of traffic in there as well.