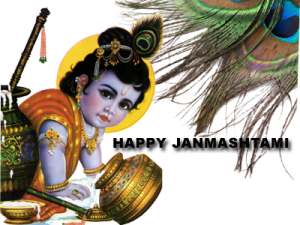 Lord Shri Krishna was born on the day of  Krishna Janamashtami. Every day of his life is full of teachings for us. Some of them are inspiring; some of them are full of wisdom about our social conduct and some of them are about the purpose of our life, which is also known as karmyog teachings.
This particular day of Krishna Janmashtami is marked for the silver linings in clouds that can become our guiding light in the life. On this day we celebrate the birth and escape of lord Krishna from the prison of the cruel king Kans and the devotion and faith of his mother Devki finally won against all the odds and hurdles that came in her way.
This is one day that reminds us about the fact that no matter how dense the cloud of problems may be but the silver lining of faith can beat it and bring the divine light and blessings in our life.
In the birth place of Shri Krishna which is Mathura, they offer midnight prayers because that was the time when this incarnation took place and new sun full of hope and divine blessings in the form of 'karmyog' rise next morning.
This is the day when we can once again get all those diving blessings and remember the teachings of that karmyog which is mentioned there in "Shrimadbhagvat Geeta"