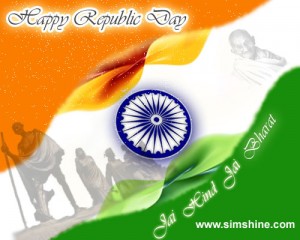 Happy Republic Day to all and wish that this day open a new and positive page of everyone's life as it is the day that opened a new beginning and happy life of India. Jai Hind!
Republic Day is the day when our Indian constitution came into force in the year 1950. Since then, we proudly celebrate 26th January, hoist flag, and honor the Jawans of India who fought and gave their lives for us to survive in this day with full independence.
We always remember this day as national holiday and always set in place to follow the flag hosting ceremony. However, this generation should know the importance of this day. Our constitution was first passed in 25 November 1949 by the Constitution Assembly of India. However, it was accepted in 1950 with a new system in India as a democratic government where people form the government.
India's long run British Rule was cut off after huge loss of people and property. Many have lost their lives for us to live today. British Rule has ended and so we are enjoying our independence nicely. However, a question of real independence is always asked because this nation is somewhere dissolving its sheer past from where Hindustan was regarded as "Sone ki Chidiya". People have started forgetting the real independence which India achieved after a long-going fight. Not only this, we are experiencing huge change in democracy and the role of government in today's age.
Still, that light which was lit years back by hardcore revolutionaries will barely evade. We know that our constitution cannot be challenged and as an Indian we will never let our independence be absconded.
To mark the significance of this day, a grand parade is held every year in the Indian capital New Delhi followed by flag hosting and availability of many major politicians of India. It is not the flag hosting, but the remembrance of those days when people lived for independence and the rights. With the constitution, India got a full face of becoming an Independent Republic. This constitution gave power to us to choose our own government. It was Dr. Rajendra Prasad who took oath as the first President of India and run the government while giving rights to people to freely live their rights.
Today, we do little, but at least our presence spending little time in giving tribute to India and the Jawans who stay alert and fight for our safety state that we cannot forget Republic Day as a very important day for Indians.
Jai Jawan, Jai Kisaan, Jai Hind!
Happy Republic Day!