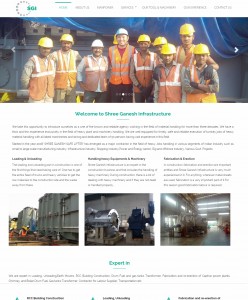 Today we are launching another site for our customer Shree Ganesh Infrastructure. which has been Webdesign, developed and web hosted by the Simshine Technologies.
www.sginfra.in is fully responsive website, user friendly, SEO friendly ,developed in PHP  and easy navigation.
'SHREE GANESH INFRASTRUCTURE' has emerged as a major contractor in the field of heavy Jobs handling in various segments of Indian industry such as small to large scale manufacturing industry. Infrastructure industry, Shipping Industry,Power and Energy sector, Rig and offshore industry, Various Govt. Projects.