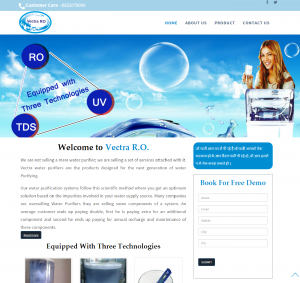 Today we are launching another site for our customer Vectra RO which has been Website design ,logo design, web hosted and domain registration by the Simshine Technologies.
www.vectra-ro.com  is fully responsive website, user friendly, SEO friendly ,developed in PHP and easy navigation.
Vectra RO water purifiers are the products designed for the next generation of water Purifying.Our water purification systems follow this scientific method where you get an optimum solution based on the impurities involved in your water supply source. Many companies are overselling Water Purifiers they are selling some components of a system.