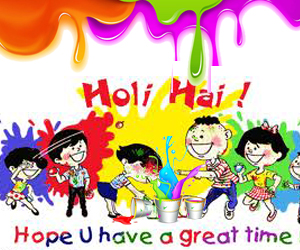 Years come a go and we say so soon the year has passed! And now it is time to celebrate our most mysterious occasion –'HOLI'. So make sure that you finish your entire schedule and get set to play and wear all the colors that signify the joy of this day.
This festival of colors sparks the real love in people and so it is sometimes indicated as festival of love where people come together and live this day with full of joy. This is the actual day when you get time out from your daily packed schedule and work. This is the day when you get an opportunity to smile, laugh and spend time with your family and loved ones. This is the day when you can color yourself and ask others to guess and forcefully apply all your favorite colors on them without any regret. So if someone say no to play HOLI then you know how to take them out of their shed and make them enjoy the moment!
Holi is celebrated the day after Holika Bonfire in front of which everyone gathers, sings and dances by forming a circle. By celebrating Holi we ensure that all evils should diminish and the sign of positivity and worshipping of god live forever.  This is not just a festival where colors are used, but it is an important festival of Hindu religion and holds deep varied meaning. So if you are asked why Holi is celebrated, you know what to say! However, remember that this festival is slowly diminished by the rage of urban lifestyle, work pressure and hectic schedule.
So to get relief from daily hustle and bustle, you can take out this day, forget all the worries and bring that child in you into action. Wear colors and more but remember that they should be environmental friendly or least chemical-based as such colors could lead to serious injury or allergic or can harm someone's eye.
And we ensure that all the staff in our office wear plentiful colors and celebrate this day like never before…
Play safe and celebrate the most!
HAPPY HOLI
"May god blesses you with all the colors in your life and may the evil stay out of your way!"