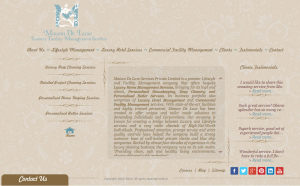 Websites are not proposed to be static. Every sites need to correspond with your customer with the most recent data's of your services. In the event that it neglects to do then it makes an awful picture about your services.
The estimation of a practice site is the capacity to keep up current data online at a sensible expense. We expect that you will need to amend some or the greater part of your website pages over the long run, and additionally adding extra website pages as indicated by your business needs.
Simshine Technologies has earned yet another open door with our valuable customer with Maison De Luxe to provide them the web maintenance services.
Maison De Luxe Services Private Limited is a premier Lifestyle and Facility Management company that offers bespoke Luxury Home Management Services, bringing for its high end clients, Personalized Housekeeping, Deep Cleaning and Personalized Butler Services.