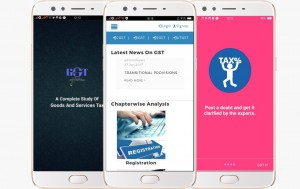 As a new chapter unfolds for Simshine Technology with us moving into new technologies and services for our esteemed clients, we are no less proud to deliver our amazing new Android mobile application "GSTlogy". We do accept that it was quite an adventure and a challenge to work on the Android application, but it was fun nevertheless. We at Simshine Technologies love new challenges and intricate projects that challenge us at every step of the way.
We originally had started with developing websites and providing web services to our clients with eventual plans to leap towards new technologies and services as we grew together. Our growth story has been phenomenal with an able and visionary leader and a strong and dedicated team under her wing in full support. The GSTlogy project has been a true masterpiece with our first ever venture into Android application development has been a great success as we proudly launch the state-of-the-art, fully dynamic mobile application on GST (Goods and Services Tax) which is going to be launched in India very shortly.
GST is expected to revolutionize the taxation system in India in regards to all goods and services on offer. Currently the tax system is resulting in multiple layers of taxes which are both impractical and hurting for the common man. The government has finally taken steps towards making the taxation of goods and services easier for the common man. Hence, it is imperative to take the information to the masses and that is where the GSTlogy app comes handy. The citizens of India can download the GSTlogy app from the Android Play Store and access all the information and more which is updated regularly in regards to GST. Simshine Technologies is proud to present the new GSTlogy app and hope that the citizens of India can make the most of the app.