Change is the only thing that remains constant in the SEO kingdom as well. SEO trends, algorithms and factors keep changing and thereby it becomes imperative to know what will work and what is obsolete in 2019.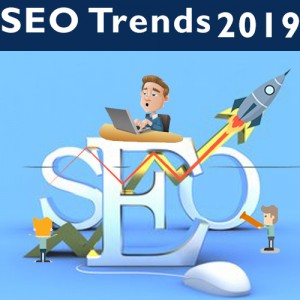 We bring to you top SEO trends that are important to watch out in the year 2019.
With 52.2% of worldwide online traffic being generated through mobile phones, it is important to understand that mobile-friendly website is the need of the hour. Initially, Google used to ensure that the websites are SEO-friendly as the majority of the traffic hit the desktop for a website view. But now, with Smartphones at everyone's disposal, mobile-friendly websites is the buzz and Google has begun mobile-first indexing since March 2018!
Thanks to science fiction which is now turning into reality, computers have started understanding and reacting to human speech. Smart assistants like Alexa and Siri, are slaying the world with their ability to process human voice. Therefore, voice search has begun rampant worldwide. All businesses now need to implement voice search SEO tactics if they wish to stay ahead in this voice-driven search world.
Page speed and its loading time have been a key SEO-factor to look at since 2018. Websites that are slow experience the highest bounce rate. Hence, the use of Accelerated mobile pages is now considered as an important factor. AMP's provide a better user experience and are 30 times faster.
Content Relevance and User Intent
This one SEO Trend is never to fade away. Content will always remain the King in the SEO domain. Therefore, content relevance and its quality which gets measured by its depth are critical for SEO success in the year 2019. Google closely monitors the user's intent in a real-time manner and therefore content relevance and user intent go hand-in-hand to develop a successful SEO-rich content strategy.
Concluding Thoughts
The increase in mobile search, video favourers and voice-driven search, user experience, and data security are of high importance. SEO trends in 2019, aim at achieving all the corners and aim at better user experience.